Top 5 Mistakes to Avoid When Listing Your Home for Sale in Dallas GA
Posted by Lorraine Danielson on Friday, July 21, 2023 at 4:47:59 PM
By Lorraine Danielson / July 21, 2023
Comment
Top 5 Mistakes to Avoid When Listing Your
Home for Sale in Dallas GA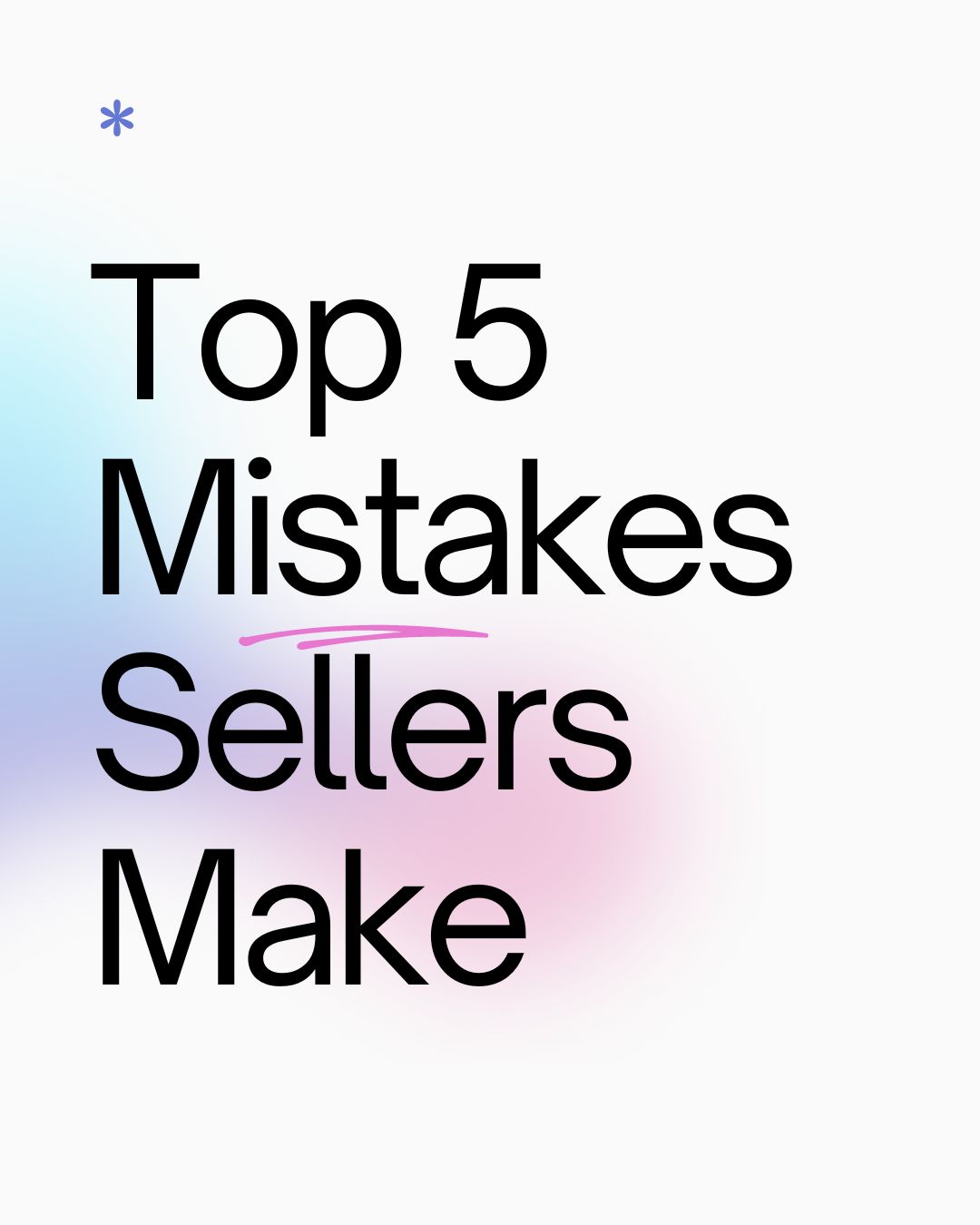 Are you planning to sell your home and achieve a successful sale? Avoiding common mistakes can significantly impact the selling process and the final sale price. In this blog, we will discuss the top five mistakes sellers often make when listing their homes for sale and provide valuable tips to attract potential buyers and maximize your property's value.
Overpricing the Property
Setting an unrealistic and inflated asking price is a detrimental mistake that can deter potential buyers from even considering your property. Overpricing can lead to your home languishing on the market for an extended period, making it seem less desirable to buyers. To determine a competitive and reasonable listing price, it is crucial to conduct thorough research, analyze comparable sales in the area, and consult with a qualified real estate agent. An experienced agent can provide valuable insights into the local market and help you set the right price to attract potential buyers.
Limited interest from buyers: When a home is overpriced, it becomes less appealing to potential buyers. Many buyers have a budget and specific criteria in mind when searching for a home. If your property is priced above its market value, it may not even appear in their search results or be considered as an option, reducing the pool of interested buyers.

Extended time on the market: Overpriced homes tend to linger on the market for longer periods. The longer a house sits unsold, the more likely buyers will assume that there's something wrong with the property, even if there isn't. This perception can lead to further reductions in the potential selling price.

Lower final selling price: When a home is overpriced, sellers often find themselves forced to lower the price gradually to attract buyers. In the end, the final selling price might be lower than what it could have been if the property had been priced correctly from the start. Properly pricing your home can help generate more interest and potentially lead to multiple offers, increasing the chance of a higher final selling price.

Appraisal issues: If a buyer needs a mortgage to purchase your home, the lender will require an appraisal to determine the property's value. If the appraisal comes in lower than the agreed-upon selling price, it can lead to complications during the negotiation process or even result in the deal falling through.

Missed opportunities: An overpriced home may cause potential buyers to turn to other properties that offer better value for their money. This can result in missed opportunities for selling your home and may prolong the selling process.
It's essential to set a realistic and competitive price for your home based on the current market conditions, comparable sales in the area, and the property's unique features. A well-priced home is more likely to attract serious buyers, sell faster, and achieve a fair market value.
Neglecting Home Preparation
Failing to prepare your home adequately for showings can significantly decrease its appeal to potential buyers. A cluttered and unkempt property may create a negative impression and make it challenging for buyers to visualize themselves living there. To make a strong first impression, sellers should declutter, clean, and make any necessary repairs before listing their home. Additionally, investing in enhancing the curb appeal can make a substantial difference in attracting buyers to your property.
Reduced Market Appeal: Without proper home preparation, your property may lack the appeal that attracts potential buyers. A poorly maintained or cluttered home can turn off buyers, leading to fewer showings and limited interest. First impressions are crucial in real estate, and a poorly presented home may not get a second chance.

Lower Sale Price: When a home is not properly prepared, it can lead to lower offers from potential buyers. Buyers might perceive the property as neglected or in need of extensive repairs, giving them leverage to negotiate for a lower price. By investing time and effort into preparing your home, you can potentially increase its market value and attract better offers.

Longer Time on the Market: An unprepared home may linger on the market for an extended period, which is detrimental to your overall selling strategy. The longer a property sits unsold, the more buyers may wonder if there's something wrong with it, leading to a negative perception and further reducing its appeal.

Missed Opportunities: Real estate markets can be competitive, and missing out on potential buyers due to an unprepared home can be a costly mistake. By presenting your home at its best, you increase the likelihood of receiving multiple offers and finding the right buyer quickly.

Inspection and Appraisal Issues: Neglecting home preparation can lead to problems during the inspection and appraisal processes. Inspectors may identify issues that you were unaware of, potentially derailing the sale or causing last-minute negotiations. Moreover, if the home doesn't meet appraisal expectations, it can complicate financing for potential buyers.
Taking the time to properly prepare your home before listing it for sale is essential for maximizing its market appeal, attracting more buyers, and achieving a smoother and more successful selling process. It allows you to make a positive first impression and increases the likelihood of selling your home at a desirable price within a reasonable timeframe.
Not Hiring a Qualified Real Estate Agent
Attempting to sell your home without professional help can be a risky decision. A qualified real estate agent brings invaluable expertise, guidance, and negotiation skills to the table, ensuring a smoother and more successful selling process. When selecting an agent, take the time to research and choose someone with a proven track record in your local market. A skilled agent will market your property effectively, attract more potential buyers, and secure the best possible deal for you.
Limited Local Market Knowledge: Local real estate agents have a deep understanding of the local market trends, neighborhood dynamics, and property values. Not hiring a local agent may result in pricing your home inaccurately, leading to either overpricing it and deterring potential buyers or underpricing it and leaving money on the table.

Marketing Expertise: Local real estate agents possess valuable marketing expertise, which is crucial when listing your home. They know how to present your property in the best light, create compelling listings, and utilize various advertising channels to attract potential buyers. Without this expertise, your property may not receive the exposure it needs to sell quickly and at the best price.

Lack of Negotiation Skills: Negotiating with buyers and their agents is a critical aspect of selling a home. Local real estate agents are experienced negotiators who can help you secure the best deal possible. Without their skills, you may find it challenging to navigate through negotiations and may end up settling for less than your property's actual worth.

Time-Consuming and Stressful: Selling a home is a complex and time-consuming process. Without a local real estate agent to handle the myriad of tasks involved, such as coordinating showings, handling paperwork, and managing inquiries, you may find yourself overwhelmed and stressed, especially if you have other commitments like a job or family.

Legal and Contractual Pitfalls: Real estate transactions involve a substantial amount of legal and contractual paperwork. Local real estate agents are well-versed in these matters and can ensure that all documents are correctly filled out and comply with local regulations. Failing to adhere to these legal requirements could lead to costly mistakes and potential lawsuits in the future.
Overall, not hiring a local real estate agent can result in a more challenging, less efficient, and potentially less profitable home-selling experience. Their expertise, market knowledge, negotiation skills, and ability to handle the complexities of the process make them invaluable assets when listing your home.
Restrictive Showing Schedules
Limiting the times when your property can be shown to potential buyers can discourage serious buyers who may have busy schedules or specific viewing preferences. Being flexible with showing times will accommodate a wider range of interested parties, increasing the chances of finding the right buyer quickly. Remember, every showing is an opportunity to showcase your home, so be open to accommodating potential buyers' needs.
Reduced Exposure: Restricting showing times limits the number of potential buyers who can view your home. Some buyers may have busy schedules or work during the times you've specified, making it difficult or impossible for them to visit. With fewer showings, you may miss out on potential offers and reduce your chances of selling quickly.

Inconvenience for Buyers: By limiting showing times, you inconvenience potential buyers who may have to rearrange their schedules to accommodate your restrictions. This inconvenience can lead to frustration and discourage some buyers from considering your property altogether, causing them to look for more flexible options instead.

Delayed Selling Process: The longer your home stays on the market, the more it loses its appeal to buyers. Restricting showing times can prolong the selling process, as it may take longer to find a buyer who can align their schedule with your specified showing times. This delay could also lead buyers to question if there's something wrong with the property, which could further impact their interest.

Missed Opportunities for Impulse Buyers: Some buyers might be spontaneous and prefer to visit a property on a whim, especially if they are already in the area or have extra time available. By restricting showings, you may miss out on potential impulse buyers who could have been interested in your home.

Negative Perception from Agents: Real estate agents play a crucial role in the home buying process. If you impose strict showing time restrictions, some agents may be discouraged from showing your home to their clients. Agents prefer to work with sellers who are cooperative and accommodating, so your restrictive approach may create a negative perception and reduce the number of agents showing your property.
Ultimately, flexibility is key when selling a home. The more accessible your property is to potential buyers and their agents, the higher the chances of attracting a broader range of interested parties and closing a successful sale in a timely manner.
Ignoring Online Marketing
In today's digital age, online marketing plays a crucial role in selling a property effectively. Ignoring online marketing can lead to reduced interest and an extended time on the market. It is essential to collaborate with your real estate agent to develop a strong online marketing strategy. This strategy should include professional photography that highlights the best features of your home, engaging property descriptions that captivate potential buyers, and comprehensive online listings on popular real estate websites and social media platforms.
Limited Reach: Online marketing provides an unparalleled reach to potential buyers. With the majority of homebuyers starting their search online, neglecting this platform means missing out on a vast pool of potential leads. Traditional marketing methods alone cannot match the exposure that online listings can offer.

Reduced Visibility: Without a strong online presence, your listing may get buried among the thousands of other properties vying for attention. Online marketing techniques such as search engine optimization (SEO), social media promotions, and paid advertising can significantly boost the visibility of your listing, making it stand out from the crowd.

Missed Targeting Opportunities: Online marketing allows you to target specific demographics and audiences. You can tailor your ads to reach potential buyers based on location, interests, and online behavior. Ignoring these opportunities means you're not effectively reaching the people who are most likely to be interested in your property.

Inadequate Presentation: Online marketing allows you to showcase your property through high-quality photos, virtual tours, and detailed descriptions. Neglecting this aspect can result in an inadequate presentation of your home, failing to highlight its best features and leaving potential buyers unimpressed.

Slow Sales Process: With limited online exposure, your home may take longer to sell. This can lead to increased holding costs, such as mortgage payments, property taxes, and maintenance expenses. In contrast, effective online marketing can attract qualified buyers quickly, resulting in a faster and more efficient sales process.
Ignoring online marketing when listing your home can severely limit its visibility, reduce your potential buyer pool, and prolong the time it takes to sell. To achieve a successful and efficient sale, a robust online marketing strategy is essential in today's competitive real estate market.
Conclusion: When listing your home for sale, avoiding these common mistakes can significantly improve your chances of a successful sale and help you achieve your desired outcomes. Remember to set a competitive and reasonable listing price, prepare your home meticulously, collaborate with a qualified real estate agent, be flexible with showing schedules, and embrace the power of online marketing. By following these tips, you can attract more potential buyers, increase your property's appeal, and secure the best possible deal for your home. Happy selling!
SCHEDULE A TIME TO SPEAK WITH ONE OF OUR LOCAL DALLAS GA REAL ESTATE AGENTS

Listings identified with the FMLS IDX logo come from FMLS and are held by brokerage firms other than the owner of this website and the listing brokerage is identified in any listing details. Information is deemed reliable but is not guaranteed. If you believe any FMLS listing contains material that infringes your copyrighted work, please click here to review our DMCA policy and learn how to submit a takedown request. © 2023 First Multiple Listing Service, Inc.

Listing information last updated on November 29, 2023 at 11:30 PM EST.