First-Time Home Buyers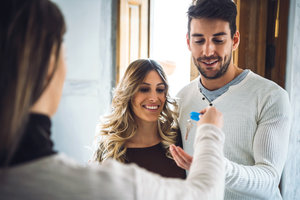 If you are a first-time home buyer, use the guide below for helpful hints and tips and learn how to avoid common mistakes when buying your first home in Atlanta, GA.
Pre-Approval: While knowing how much you can afford is the first step, sellers will be much more receptive to potential buyers who have been pre-approved. You'll also avoid being disappointed when going after homes that are out of your price range. With Pre-Approval, the buyer actually applies for a mortgage and receives a commitment in writing from a lender. This can often help in a Multiple Offer Situation to help you win the home since you are approved and just need an appraisal. Click here to be connected with one of our Lenders.
List of Needs & Wants: Make 2 lists. The first should include items you must have (i.e., the number of bedrooms you need for the size of your family, a one-story house if accessibility is a factor, etc.). The second list is your wishes, things you would like to have (pool, den, etc.) but that are not absolutely necessary. Realistically for first-time buyers, you probably will not get everything on your wish list, but it will keep you on track for what you are looking for.
Representation by a Professional: An experienced license Realtor can help educate you on the process and protect you during the transaction. Click here to choose from one of our Agents and they start helping you right away.
Location: Look at a potential property as if you are the seller. Would a prospective buyer find it attractive based on school district, crime rate, proximity to positive (shopping, parks, freeway access) and negative (abandoned properties, garbage dump, source of noise) features of the area?
Visualize the house empty & with your decor: Are the rooms laid out to fit your needs? Is there enough light?
Be Objective: Instead of thinking with your heart when you find a home, think with your head. Does this home really meet your needs? There are many houses on the market, so don't make a hurried decision that you may regret later. Pay special attention to how old the roof and major systems in the home are and what it will cost to update them.
Be Thorough: A few extra dollars well spent now may save you big expenses in the long run. Don't forget such essentials as:
Have the property inspected by a professional inspector and any additional test needed such as a Radon Test or Septic Inspection
Request a second walk-through to take place within 24 hours of closing
You want to check to see that no changes have been made that were not agreed on (i.e., a nice chandelier that came with the sale having been replaced by a cheap ceiling light)
All the above may seem rather overwhelming. That is why having a professional represent you and keep track of all the details for you is highly recommended. Please contact us directly to discuss any of these matters in further detail.
To answer more of your questions about purchasing a home we have a wonderful Homebuyer's Guide
First Time Homebuyer Testimonials
I was looking for a home or a townhouse. I kept going back and forth between which one I wanted and Amanda Aultman was so patient with me. She helped me with the pros and cons on each and every home we looked at. She would also point out any areas of concern on each home, that I hadn't even noticed. I
would e-mail, text, call and she responded immediately pretty much any time day or night. She was also ALWAYS available to look at homes. I would let her know homes that I was interested in and within an hour she would have 5 homes lined up for me to see. Amanda makes you feel like you are her only client and cares as much as you do about finding the right home. She would come up with the best possible offer and explained every detail to where I could completely understand it. In this seller's market where homes were going within hours she kept me grounded and was reassuring that I would find the right one. There was a home that I really wanted that had went on the market and went under contract immediately. I was very happy when it came back on the market. We came up with the best offer possible, in addition, she helped write a letter as to how much that home meant. The only reason I didn't get it was because the other person put 40% down. It broke her heart to tell me and you could feel the empathy pouring out of her for me. It was like I almost had to encourage her this time that I was going to find the right home. When we finally did find the RIGHT home we were both so excited. She made the completion process very easy and ensured everything was taken care of that was on the inspection. She became excited when the HOA replaced windows that they really didn't have to. Long after the sale was completed she followed up on everything she had promised me. On closing day she gave me the most precious housewarming gifts that she put a lot of thought into. I actually have tears in my eyes writing this because it's so refreshing to know there are such good people in the world. She became a friend and I miss seeing or hearing from her everyday. She definitely goes the extra mile and this couldn't be any more of a perfect profession for her. You can not go wrong with her on your side!
08/21/2018 - mjbeau Home For Sale in Acworth, GA.
Amanda Aultman was delightful to work with! She was always responsive and ready to answer any questions I have. She was honest and thorough! She sold my husband and me our first home and we love it so much! I would recommend her to anyone looking to purchase a new home!
08/02/2018 - maultman1124 Home For Sale in Acworth, GA 30101.
Lorraine Danielson worked with me for over two years in finding the ideal home for my needs. She is very professional and the nicest person you will ever deal with. I will highly recommend her to everyone I know needing the top of the line real estate professional. Not only does she work with you
until you buy or sell your home, she follows up after to see how things are going and keeps in touch as a friend. I couldn't be any more happier with her and her services!!
02/27/2018 - user5166294 Home For Sale In Dallas, GA.
Being a new homeowner, I have never worked with a realtor before. Christina Darby was SO helpful and informative throughout the entire process. She was always honest in her advice and worked tirelessly to find a home for me that I would love. She's the BEST!
07/05/2018 - brittanyelkins24 Home For Sale in Marietta, GA.
Michelle Burge helped me find my perfect home! Not only did she make the picking process easy, but she also made the buying process easy. I will never go to any one else to purchase my future properties. She is truly the best and goes above and beyond for her clients!
02/23/2018 - kait valenzuela Home For Sale in Dallas, GA
The best decision I made in my home buying process was when I hired Michelle! If you're looking for a knowledgeable, hardworking, driven relator who has strong negotiating skills and is willing to put in the work to make sure you receive the best deal available.....look no farther!!!! I was
thoroughly impressed with the level of dedication, professionalism, and expertise that Michelle Burge exuded. My process was extremely difficult but she never gave up! She doesn't tell you what you want to hear. She does the research to make sure that you have all the information necessary to make a sound decision. She was always available for my questions and concerns. She is definitely a 24 hour realtor!!! I look forward to closing more deals with her. She is my "home team" and I know that there is no one better than her!!!! I highly recommend her and her team!!!! Thank you so much Michelle for making my home buying process a wonderful experience!!!
06/22/2017 - eyeambeauty Home for Sale in Mableton, GA.
Jaye is amazing!! We are first time home buyers and had no clue what we were doing. Even before we met Jaye, we knew she cared about helping us find a home. She literally works around the clock to find us a place that we would love. She gave us great, honest feedback and wouldn't let us settle on just
any house. There should be more Jayes in the world :)
Katiek Family - Homes For Sale in Dallas, GA
Jaye Lutz was very patient and detail-oriented, great with timely communication and walking me through every step of the way. Jaye even went above and beyond several times trying to get information from Zillow when they were often non-communicative and didn't seem to be organized with the sale. We are still
waiting for some information from Zillow and their associates even more than a week after closing. Jaye has definitely gone the extra mile when it came to assisting me in finding a home and purchasing my new home, even past closing. I will always be grateful to Jaye for all the added effort she put in on this home purchase for me
Tatum Family - Homes for Sale in Marietta, GA
Patricia Starkey was by far the best realtor I've ever worked with. She was personable, attentive, and professional. Patricia knew our budget and what we were looking for. She updated us with listings that matched our needs and were within our budget. I'm glad she helped us find our dream home. I will recommend
Patricia to anyone who is looking to buy a new home. Thank you, Patricia!
Downey Family - Homes for Sale in Dallas, GA
This is our first home and Amanda made it a smooth home-buying experience. She gave us plenty of home-buying material to read and was very attentive when we laid out our budget and preferences. Amanda was extremely responsive and clearly communicated at every stage of the process. Throughout, we
felt very comfortable with Amanda and we were very grateful to have her help us through this milestone of ours. We 100% recommend Amanda to anyone moving into the area
Homes for Sale in Marietta, GA
When my very picky neurotic friend recommended Patricia I figured she must be good and my wife and I were not disappointed. From our first meeting with Patricia though both closings she was always available...literally 24/7. She guides you though one of the most stressful times of your live
selling and buying a home. At times talking both my wife and I off the ledge...Patricia rocks!!! I would us her again in a minute and recommend her to anyone.
Mike Yalen - Homes for Sale in Marietta, GA
We used Patricia from a referral from good friends. Wow, this girl rocks from start to finish. She communicated every single detail of the process we knew nothing about. We could reach her easily and she really worked it when it came to getting what we thought was fair for our home. We had a great
experience considering all things
Homes for Sale in Marietta, GA
Lorraine and her team are amazing! Attention to detail, going the extra mile, consistent communication, and incredibly helpful and available. I recommend Lorraine for anyone needing a very strong real estate agent!!!
Joachim - Homes for Sale in Dallas, GA
Paulding County Homes For Sale
December 10, 2023

The data relating to real estate for sale on this web site comes in part from the Internet Data Exchange / Broker Reciprocity Program of Georgia MLS. Real estate listings held by brokerage firms other than Real Broker, LLC/Homes For Sale Team are marked with the Internet Data Exchange / Broker Reciprocity logo and detailed information about them includes the name of the listing brokers.

The broker providing this data believes it to be correct, but advises interested parties to confirm them before relying on them in a purchase decision. Information is deemed reliable but is not guaranteed. © 2023 Georgia MLS. All rights reserved. Data updated as of December 10, 2023.